Pike Mullet Barracuda Automatic Fish Feeding Machine

1. Advantages of Pike Mullet Barracuda Automatic Fish Feeding Machine :
1. This food extruder is widely used for producing floating feed pellets of all kinds of aquatic animal.
2. Advanced technology and humanized design ensures easy operation and reliable performance.
3. High efficiency, low power consumption
4. Screw sleeve of this small fish food extruder adopts enchase alloy steel strip structure, which guarantees long service life.
5. Different moulds can be chosen to make pellets with different diameters and shapes.
6. Feed pellets dia. Is 0.9-15mm.
2. Common Raw Material for Making Nutritional Feed:
☆ Rice Dust: contain about 10-14% of protein and also contain vitamin B1, B2, B6 and small quantity of enzyme.
☆ Mustard Cake: Mix maximum 40% of cake in the fish feed. But don't use dry cake more than 20%. Mustard cake contain 30-32% protein. It also contain a high rate of fat.
☆ Wheat Chaff: contain fiber, control many types of fish diseases.
☆ Maize: contain protein, carbohydrate, fat, vitamin A and E.
☆ Cotton Seeds: contain about 54% protein. It is a better ingredients for supplementary fish feed.
☆ Fish Powder: easily digestible to fish. Fishmeal contain about 55-60% protein.
☆ Bone Powder: very necessary for building fish-bone. The ratio of calcium and magnesium in the bone dust is 2 : 1.
☆ Innards : very suitable and ideal feed for catfish. It contain 52% protein.
Our fish feed extruder is of single screw design.
We provide technical formula for making floating fish feed pellets after placing order.
We send extra easy wear parts for free including two sleeves, one screw, one cutting knife and three die moulds.
3. Technical Features of Pike Mullet Barracuda Automatic Fish Feeding Machine:
1. This extruder equipment adopts the auto-controlling speed feeding tool to produce the feed material evenly.
2. Electric heating device is adopted which can improve the feed expansion rate and pellets floating time.
3. High temperature and high pressure cooking process can kill the salmonellosis and bacterial infections and also makes the pellets easily to digest.
4. The cutting knife adopts the frequency controlling speed in order to change the material size.
5. The floating time can be controlled by the puffing degree adjustment.
6. Auto-temperature control system makes the temperature controlling more direct viewing and the parameter more precise.
4. Working Principle of Pike Mullet Barracuda Automatic Fish Feeding Machine :
There is no need to heat outside the machine, through the screw extruding of the raw material, heat is produced and gathered during the rotary working process in the airtight environment, and during the high temperature ripening process, the starch and fiber of the raw material become swell. Then under the pressure-tight condition, material will be formed into pellets by shaping mould. At the end, through the high pressure produced by the regular rotating of the screw, after being cut by the forepart cutter which rotates regularly and high-speedily, the finished products will be shrunk and become small average puffed balls in room temperature and pressure.
5. Parameters of Dry Type Pike Mullet Barracuda Automatic Fish Feeding Machine :
| | | | | | |
| --- | --- | --- | --- | --- | --- |
| Model | Capacity | Main power | Feeding power | Screw diameter | Cutting power |
| AST-DGP50 | 0.06-0.08t/h | 11kw | 0.4kw | φ50mm | 0.4kw |
| AST-DGP60 | 0.12-0.15t/h | 15kw | 0.4kw | φ60mm | 0.4kw |
| AST-DGP70 | 0.18-0.25t/h | 18.5kw | 0.4kw | φ70mm | 0.4kw |
| AST-DGP80 | 0.3-0.35t/h | 22kw | 0.4kw | φ80mm | 0.6kw |
| AST-DGP90 | 0.4-0.45t/h | 37kw | 0.4kw | φ90mm | 1.5kw |
| AST-DGP120 | 0.5-0.7t/h | 55kw | 0.4kw | φ120mm | 2.2kw |
| AST-DGP135 | 0.8-1.0t/h | 75kw | 0.4kw | φ133mm | 2.2kw |
| AST-DGP160 | 1.2-1.5t/h | 90kw | 0.75-1.1kw | φ155mm | 3.0kw |
| AST-DGP200 | 1.8-2.0t/h | 132kw | 1.5kw | φ195mm | 3.0-4.0kw |
Dry Type Photos :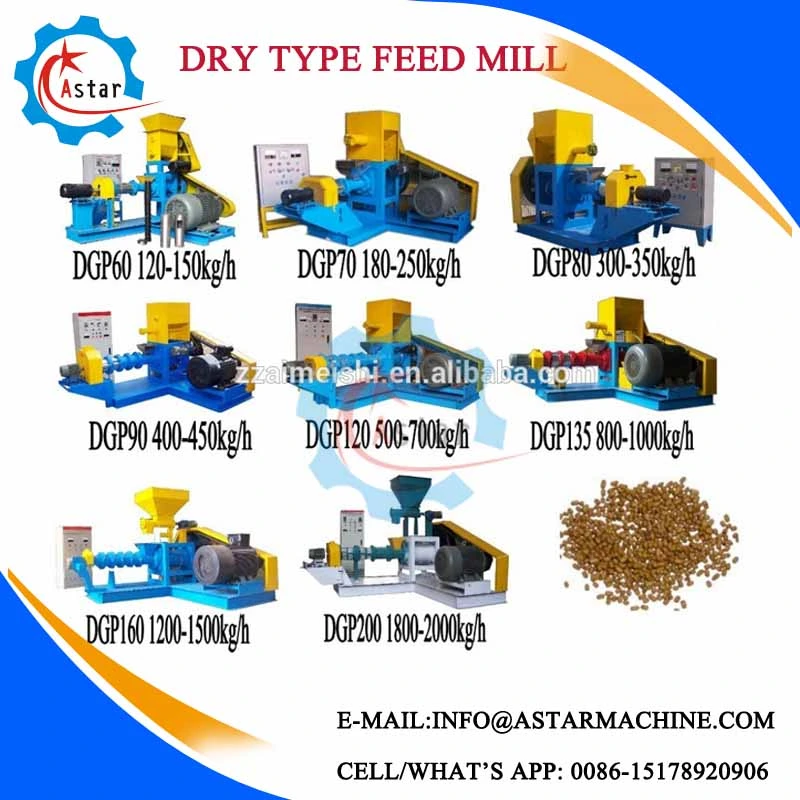 Dry type Simple Drawing :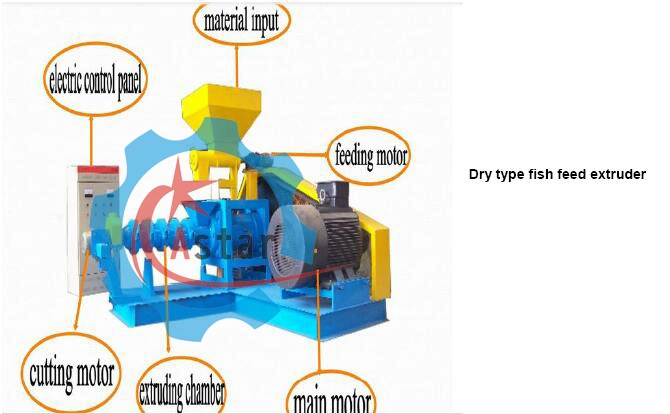 Parameters of Wet Type Pike Mullet Barracuda Automatic Fish Feeding Machine :
Wet Type Photos: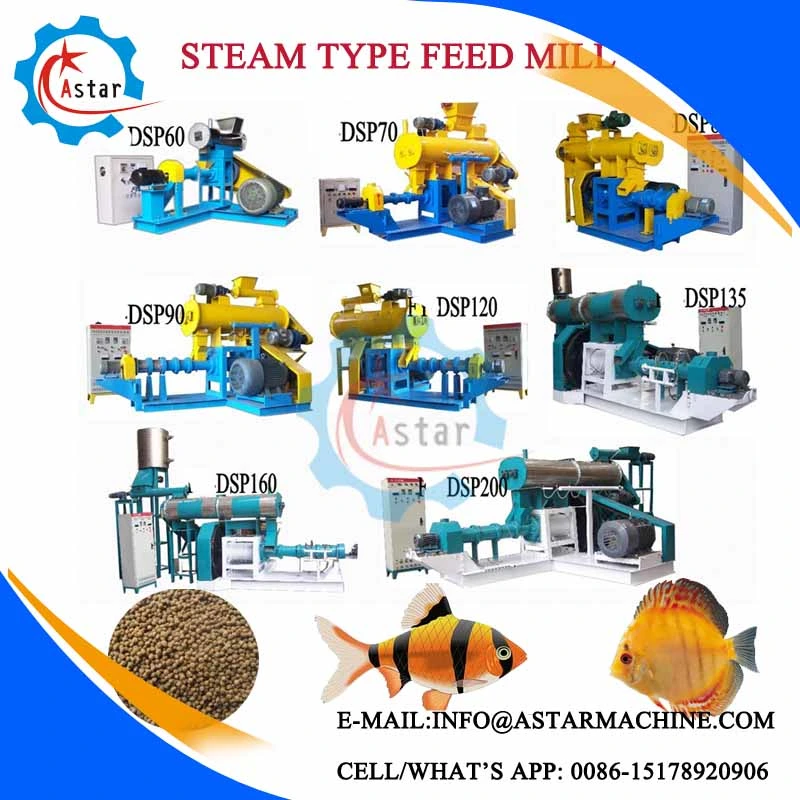 Wet Type Simple Drawing :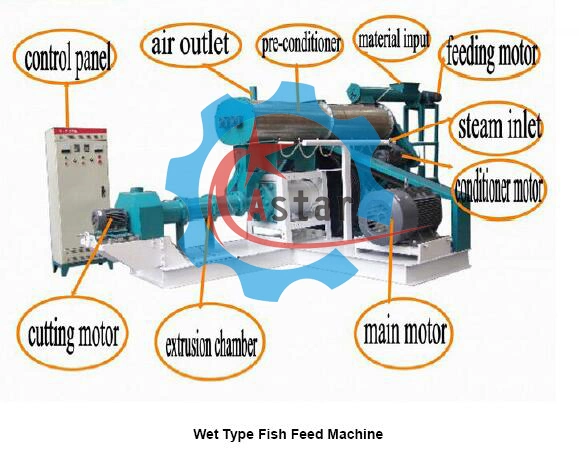 Fish Feed Machine Working Video Can be provided
Final Feed Photos :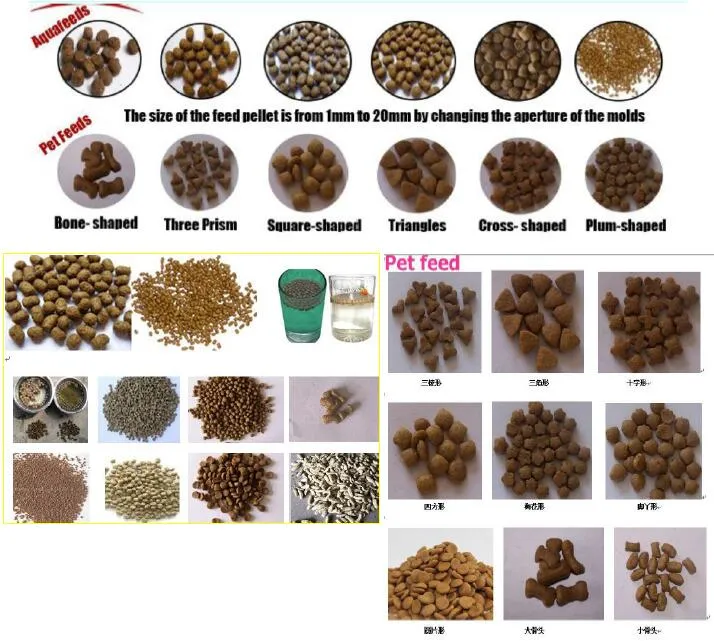 We Can Also Supply The Whole Fish Feed Machine Line :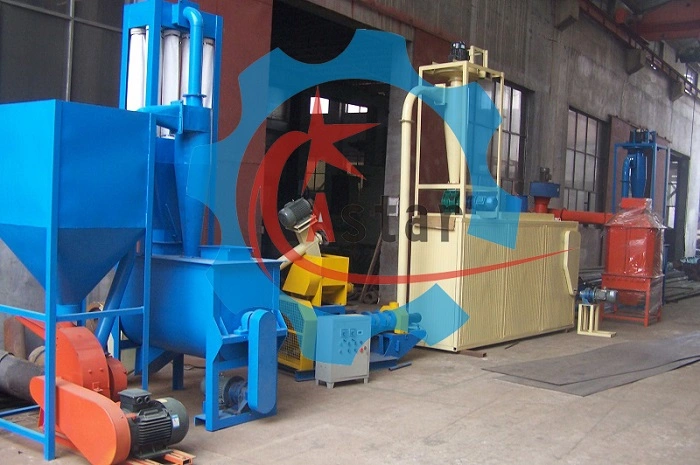 Any more information you need Pike Mullet Barracuda Automatic Fish Feeding Machine, please feel free to contact with us.
Mr. Jason
Chongqing Qiaoxing Machinery & Equipment Company
Website: http://qiaoxingmachinery.en.made-in-china.com
Add: Room 6088, Building 4th, No. 319 of Haier Road in Jiangbei District, Chongqing Municipality, Chongqing, China
Mobile: 0086-15178920906