Drones Uav Professional UAV Megaphones Drone with Camera Traffic Law Enforcement Public Security

TAI-M6T multi-functional drone is a multi-functional drone newly designed and developed, which is specially designed for public security and police firefighting units. The UAV has the characteristics of long flight time, large load and simple operation. The body is made of Japanese 3K carbon fiber composite material, which has waterproof and dustproof functions, and the body is folded. The body and accessories can use the standard packaging box, which is convenient for transportation and storage.
Mountable device
Z30/210 double-light photoelectric nacelle, professional aerial photography
Cameras, megaphones,
dispensers, sonic dispersers, fire-extinguishing ammunition, searchlights, etc.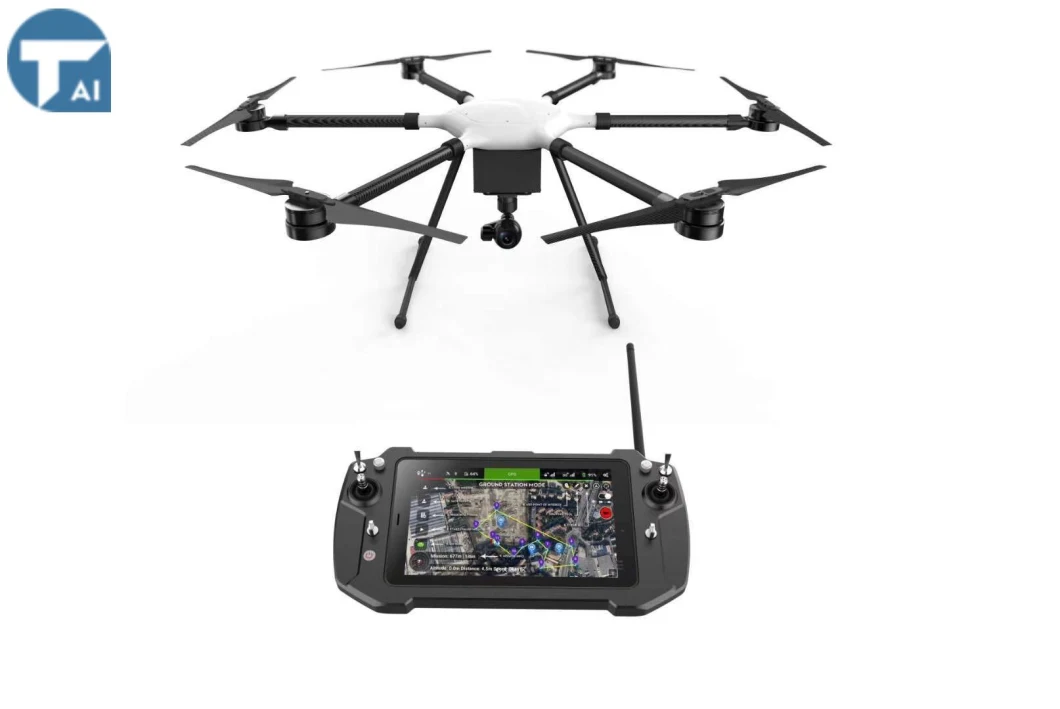 This drone can mount a variety of equipment, such as Z30/210 double-light photoelectric nacelle, professional aerial photography
Cameras, megaphones, dispensers, sonic dispersers,searchlights fire-extinguishing bomb throwers, and other professional equipment. It can even real-time video images through the 4G single soldier image transmission system. Back to the command center, a more comprehensive understanding of emergencies and conditions allows command staff to coordinate the combat plan.
System Features
1. The flight route and mission settings can be modified in real time.
The flight time can reach 60min and the maximum effective load
while the load is 10kg and the takeoff altitude is 4000m.
2. There are multi-drones, multi-station compatible work , the capability of anti-

interception and anti-jamming capability, maximum flight speed up to 50km/h.
3. Can integrate the company's independent research and development of TAI-GS1 type
Face station, real-time monitoring data and images.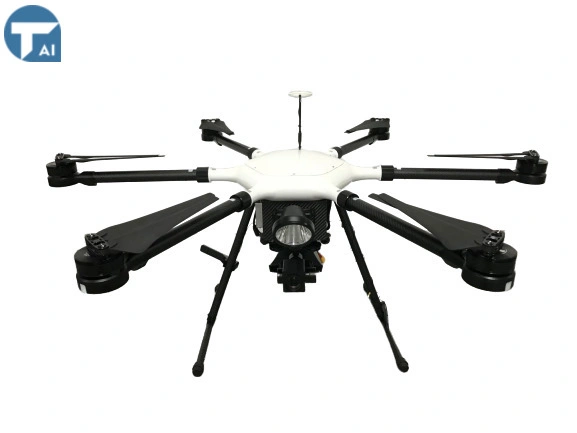 It is mainly used in public safety fields such as traffic law enforcement, public security and anti-terrorism, fire rescue, urban management law enforcement and emergency rescue.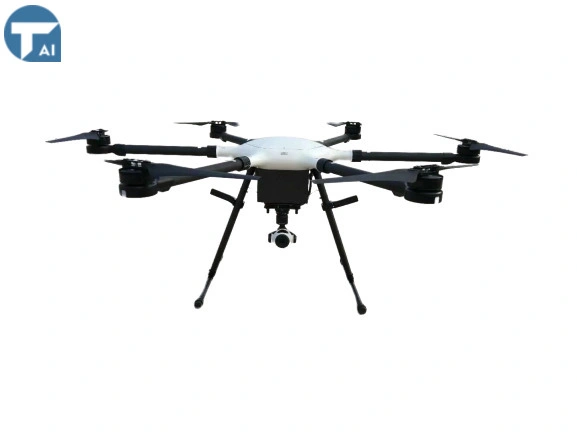 | | |
| --- | --- |
| Model | TAI-M6T |
| Dimension | 1400*1300*430mm |
| Folded size | 480*430*430mm |
| Symmetrical wheelbase | 1133mm |
| Paddle rotor | 21 inch |
| Body material | Japanese 3K carbon fiber composite material |
| Flight speed | 3-12m/s |
| Life time | ≤60mins |
| Electricity | 6010 (Outer rotor brushless waterproof) |
| Battery | 22000mAh/6S1P*2 |
| type of battery | Lithium polymer battery |
| Electronic governor | 40A/400Hz |
| Flight height | 2000m |
| Flight altitude | ≤4000 m |
| Flying radius | ≤10 km |
| Measurement and control link communication distance | 7km |
| Flight recorder | Built-in flight control system |
| Maximum pitch angle | 25° |
| Operating temperature | -10°C to +60°C |
| Wind resistance | 6 |
| Maximum load | 10 kg |
| Accuracy | Flat +0.5m Vertical +0.5m |
Can be used in public security and fire protection,quality surveying and mapping, urban planning, meteorological detection, environmental monitoring, disaster investigation and oil pipeline monitoring, etc.
Contact me right now!