Product description:
Waterproof hermetic case
The radius of effective jamming:
500~2000 Meters
Inner Battery +24V / 20AH LiFePO4 can work till 1 hour
| | | |
| --- | --- | --- |
| Output Interface | RF Frequency Band(MHz) | RF Output Power (Watt) |
| CH1 | WIFI 2.4G: 2400-2500MHz | 50W |
| CH2 | GPSL1: 1560-1620MHz | 50W |
| CH3 | WIFI 5.8G: 5725-5850MHz | 15W |
| CH4 | Remote Control: 433:433MHz | 15W (option) |
| CH5 | Remote Control: 315:315MHz | 15W (option) |
| CH6 | 868-920: 868-916MHz | 20W (option) |
| CH7 | GPS L2~L5: 1100~1300MHz | 50W (option) |
| CH8 | WiFi3.6G: 3500-3600MHz | 50W (option) |
Total output power: 115W
Jamming Range: Up to 2000m (depend on cell phone signal Length)
Power Supply: AC 110 or 220V, DC 12V or DC 24V (Option)
Antennas Details: high-tech rubber (3 units)
Dimensions Of Device: 450x380x350mm
Weight Of Product: 35.00kg
Effective interference with UAV s Remote-Control Signal 2400MHz, GPS signal 1500MHz,
Remote-Control Signal and Image Transmission Signal 5800MHz.
Outdoor waterproof case with protection level of IP55
UHF broadband jamming technology: highly effective power & long jamming distance
Separate control of each module, convenient operation.
High quality tubular radiator, effective in radiating heat.
High integration components; the moderating circuit-starting design avoids a spark when the device turns on/off. High integration & Stable operation.
Batteries are separate from the main device, easy to be replaced and maintained.
Taking use of super-high frequency with high effective power.
Effective output power (channel power) and bigger interfere radius.
Only interfere downlink frequency of mobile system,without disturb normally working of Base Stations.
Imported elements: Slow start up design of circuit.
These elements can maintain the stable operation condition with high integration.
Mainly applied to prisons, airports, scientific research centers, detention houses,
interrogation rooms, courthouses, labor camp,all kinds of military important places, etc.
that forbid aerial photography by use of UAVs
Advantages and Features
• Aluminum-alloy casing with high protection has high resistance to dust, water and corroding.
• Heat sink designing combing with the fans to make system in a cooling status.
• Special technology to prevent interference between each frequency band.
• Only interfere downlink frequency of mobile system, without disturb normally working of Base Stations.
• Frequency bands and output power selectable.
• Each frequency band controlled by independent RF ON/OFF switches.
• Power of each frequency band can be adjustable independently.
• Circuit protection to ensure system will not burn out in case of antenna short circuiting or disconnection.
• Antenna type options, directional or Omni-directional antennas option.
• Easy operation and installation.
• Keep for upgrade module installation.
• Working 24 hours/365days continuously.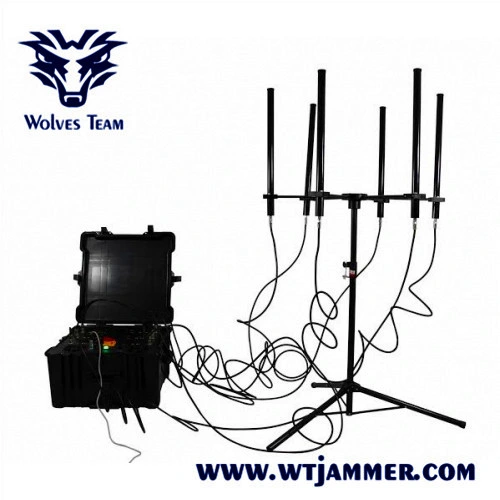 R&D Group in USA
We have strong and excellent R&D group in USA, who dedicated to the research and development of our new products.We are consumer-oriented and do our best to offer satisfying products to customers.
Manufacturer in CHINA
A full line of products - We have a full line of cellular jamming products from low-cost portable units to high-spec industrial units.
We are the specialists in cell phone Jammers and GPS Jammer, WIFI Jammer, 3G Jammer, 4G Jammer, Lojack Jammer, UHF/VHF Jammer, RF Jammer, Audio Jammer,Wireless Video Jammer and signal Repeater/Amplifier/Booster etc.We offer unparalleled professional service and advice for our personal and commercial products. 10+ years of industry experience makes us the specialists you can trust. We pioneered all kind of jammers online sales, and offer the best cellular jamming prices worldwide - guaranteed. We are a developer, manufacturer and reseller of cell phone jamming devices and signal Repeater devices. products include GSM Jammer, CDMA jammer, DCS/PCS Jammer, GPS Jammer, WIFI Jammer, 3G Jammer, Audio Jammer, Wireless Video Jammer, Dual Band Repeater,Tri Band Repeater etc.
Our Jammer type have Portable Jammers, Desktop Jammer, Prison Jamme, Vehicular jammer, Bomb Jammer, IED Jammer and RF Jammer.